One of a kind, the kuddly™ komfies are extremely unique slippers. They are engineered with super soft 280 GSM plush and come with an all-natural clay insert made of clay beads that you can heat up in the microwave. The komfies are also non-slip, so you can easily walk around the house in them without worrying about injury.

Easily heat the clay insert up in the microwave for 30 seconds and you'll enjoy instant therapeutic heat for around 30 minutes. 
These were the comfiest slippers we've ever put on our feet and using the heatable inserts for extra warmth when needed was really simple and totally worth it. The extra warmth was really soothing. 
UPDATE: the price of the komfies have dropped since the article was written. You can now buy 2 for £59! That's the lowest we've ever seen them. Get them now while you still can.
High-quality slippers

Heatable insert for 30 minutes of extra warmth

Non-slip soles

Comes in pink or grey

Machine washable

Available in sizes S/M and L/XL

Free shipping

30-day money-back guarantee
See what others are saying about the kuddly komfies.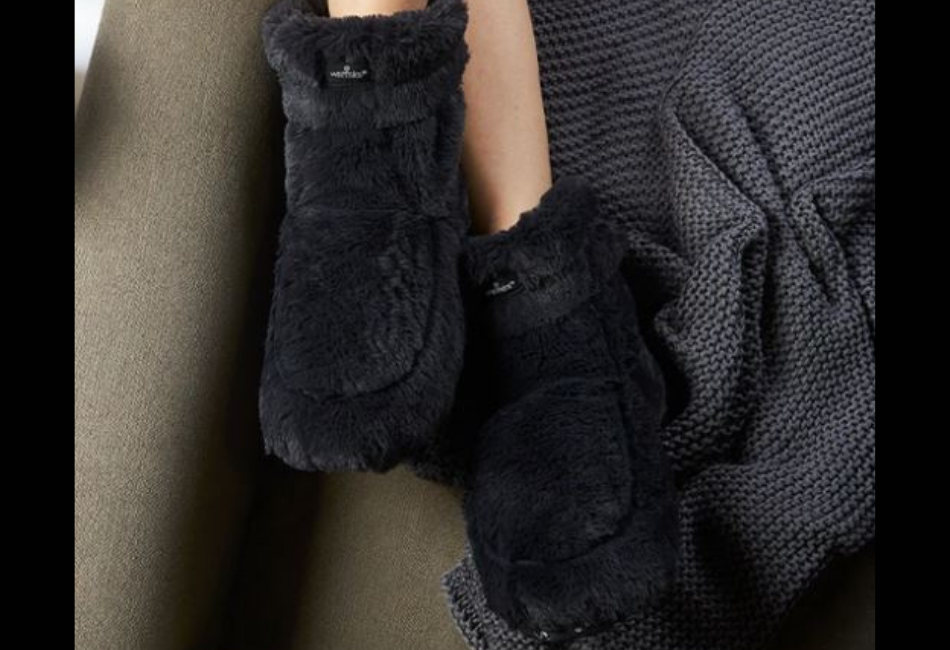 Warmies are like the second cousin to the kuddly komfies. They're also made with soft plush, but to get the extra warmth you have to put the entire slipper into the microwave. This makes the slipper feel slightly damp which can be uncomfortable for some. 
They aren't machine washable due to the flax seeds within so you can only surface clean them with a lightly damp cloth. Plus, unfortunately, they only come in one size, so some of our testers didn't have a comfortable fit. They're lavender-scented, which is a nice touch. 
Obviously, they did the job, but they probably won't last you that long and you might have to replace them often depending on how much you heat them up and wear them. Although the site does say with proper care they should last you quite a while.
One size

Lavender scented

Warm up in the microwave 

Surface clean only 

Free delivery for orders over £25
We found these on Amazon and they're not exactly microwavable, but they do have an electric heat pad. As such, you'll only be able to enjoy the extra heat if you plug in the heat pad, meaning you're stuck sitting in one place for a bit while they heat up.

We enjoyed using these and they kept our feet warm, but being locked into one position wasn't ideal. It'd be nice if you could enjoy the heat and still be able to move around.
Power supply: USB

Super soft velvet

Thin sole

One size
Remember, to stay healthy, keeping your feet properly warm is a must and our number one choice is the best thing you can put on your feet to keep them warm.