Do you find yourself tossing and turning in the night? Are your blankets just sticking to your sweaty body? Well, perhaps it's time for you to get rid of those pesky linens and invest in the soothing comfort of a cooling weighted blanket.
After conducting some research, we here at Originol have compiled a list of the top three weighted cooling blankets available in the UK.
Here's Our List of the Top 3 Cooling Blankets Available in the UK!
Crafted with HydroCool™ technology, this weighted blanket helps keep you cool by regulating your body temperature.
The kuddly cooling blanket uses high-quality, ultra-silent micro-glass sand beads that are individually sewn into pockets. This means that there isn't bunching and the blanket perfectly moulds to the shape of your body.
Our testers found that the comfortable and cooling fabric, combined with the perfect 5kg weight, kept them relaxed and cosy throughout the night.
"When I say I'm a hot sleeper, I'm not joking! I always end up tossing all my sheets off of me because I'm just drenched in sweat! My girlfriend surprised me with the kuddly cooling blanket and it changed everything. Not only is it so relaxing, but it keeps me cool. Imagine that! A blanket keeping me cool! I love it!" – Charles F.
Features:
HydroCool™ fabrics to regulate body temperature

5kg weight

Machine-washable

Size of a single bed, so it moulds perfectly to your body

Ultra-silent micro-glass sand bead filling

100% UK-based
Free Shipping
Get TWO for £89 | Free shipping
Our number two pick is the Koala Blanket. The Koala blanket is perfect for any time of the year with its double-sided cover. Cool off with the bamboo side, or turn it over to the plushy mink side for that added warmth.
This weighted blanket comes in three different weights and two sizes, allowing you to pick out the perfect size and weight for your body type.
While our testers did enjoy a restful sleep with the Koala blanket, they would definitely have preferred if it were a single unit, like our number one pick. 
Having said that, the Koala blanket is a great choice if you'd like to indulge in a restful sleep.
Features:
Double-sided: Cooling bamboo side and soft mink side

Available in 3 weights: 4kg, 6.8kg, and 9kg and…

In 2 sizes: single and queen

Machine-washable cover

100% UK-based
Free shipping and ships next business day
30-night money-back guarantee
With kalmkoala™'s 30-night money-back guarantee and fast shipping, you can try the Koala blanket, risk-free!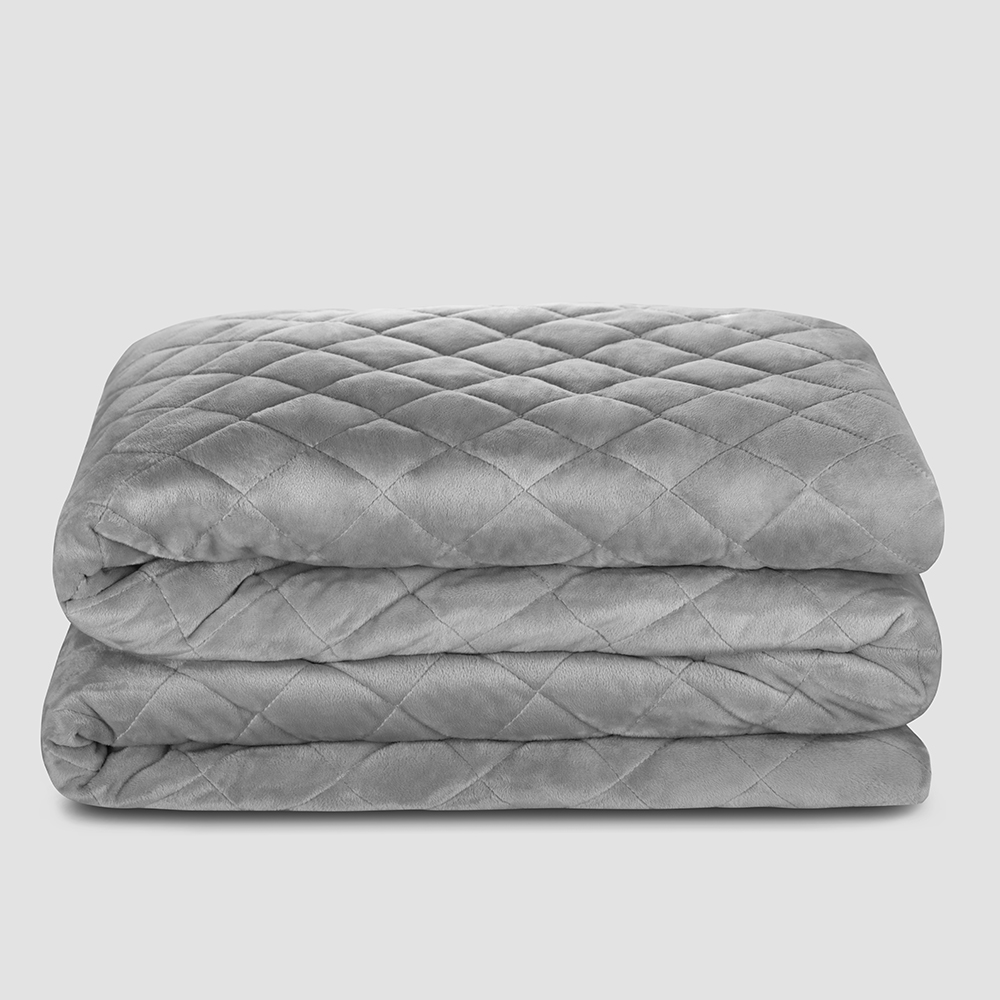 Try risk-free for 30 nights | Free shipping
Our third pick is the Gravity® Blanket. Just like the Koala blanket, this weighted blanket comes with a double-sided cover: a velvet side and a 100% cotton side. 
While the cotton side is breathable, it doesn't offer the same temperature regulating benefits as the bamboo or HydroCool™ fabrics.
The Gravity blanket sure is comfy, but it can be frustrating having to make sure that the cover was secured properly in order to avoid bunching.
Features:
Cover and Duvet (all year cover and a summer cover)

Comes in one size – single

Available in 5 weights: 4kg, 6kg, 8kg, 10kg, and 12kg

21-day delivery time

Free Shipping
The major downside to the Gravity® blanket is waiting 21 days for the blanket to arrive.
Available in 5 weights | Free shipping
Looking at our top three picks, it's no wonder why kudd.ly™ is number one! The breathable HydroCool™ fabric was engineered with sweaty sleepers in mind, and does the perfect job at regulating body temperature.
Shop the kudd.ly™ cooling blanket today for a chilly, cosy, and comforting experience!
Limited time offer: TWO for only £89