The Ekster Wallet is a revolutionary product that combines style and technology to offer a smart and efficient way to carry your essentials. With a focus on innovation and convenience, this sleek and minimalist wallet is designed to meet the needs of modern individuals. In this review, we will explore the key features, design, and benefits of the Ekster Wallet.
Key Features and Technology
The Ekster Wallet is packed with cutting-edge features that set it apart from traditional wallets. One of its standout features is the integrated Bluetooth tracker, which allows you to locate your wallet through a smartphone app. This means no more frantic searches for your wallet when you misplace it, as the app will help you find its last known location. The wallet also features a quick card access mechanism, enabling you to access your most-used cards with just a push of a button.
The Ekster Wallet boasts a sleek and modern design, crafted from high-quality materials such as premium leather or aluminum, depending on the model. Its slim profile ensures it fits comfortably in your pocket without creating any bulk. The wallet is available in various colors and finishes to match your personal style. Its functional layout allows for easy organization of cards, cash, and even a few coins.
Security and RFID Protection
In addition to its innovative features, the Ekster Wallet prioritizes security. The wallet comes with RFID-blocking technology, which protects your cards from unauthorized scanning and data theft. This ensures that your sensitive information, such as credit card details, remains safe from potential digital pickpockets.
The Ekster Wallet is designed with user convenience in mind. The quick card access mechanism allows you to retrieve your frequently used cards with minimal effort. The integrated tracker ensures that you can locate your wallet effortlessly using the smartphone app. The wallet's slim design also means it is easy to carry and won't weigh you down.
Customer Reviews and Feedback
Customers who have used the Ekster Wallet praise its sleek design, smart features, and high-quality construction. The quick card access is a favourite among users, as it eliminates the need to fumble through multiple cards to find the right one. The Bluetooth tracker has also received positive feedback for its accuracy and ease of use in locating misplaced wallets.
Pros:
Stylish and modern design
Integrated Bluetooth tracker for locating the wallet
Quick card access mechanism
RFID protection for added security
Durable and high-quality materials
Cons:
The tracker requires occasional charging
Some users may prefer more card slots for additional storage
The Ekster Wallet offers a perfect balance of style, convenience, and technology, making it an excellent choice for modern individuals seeking an efficient way to carry their essentials. Its smart features, secure RFID protection, and sleek design make it a standout accessory for everyday use.
More Reviews: Home
Frequently Asked Questions (FAQs)
How does the Bluetooth tracker in the Ekster Wallet work?

The Bluetooth tracker in the Ekster Wallet connects to your smartphone via the Ekster app. If you misplace your wallet, you can use the app to make the tracker emit a sound, helping you locate it.

How many cards can the Ekster Wallet hold?

The Ekster Wallet can hold up to 6-12 cards, depending on the model. It also features a dedicated compartment for cash and a small pocket for coins or other small items.

Can I use the Ekster Wallet without the smartphone app?

Yes, the Ekster Wallet can be used as a traditional wallet without the smartphone app. The Bluetooth tracker and card access mechanism are optional features that enhance its functionality.

Is the RFID protection effective in the Ekster Wallet?

Yes, the RFID-blocking technology in the Ekster Wallet provides effective protection against unauthorized scanning and data theft.

How long does the Ekster Wallet's battery last?

The battery life of the Ekster Wallet's Bluetooth tracker can last up to several months, depending on usage. It is rechargeable via a USB cable.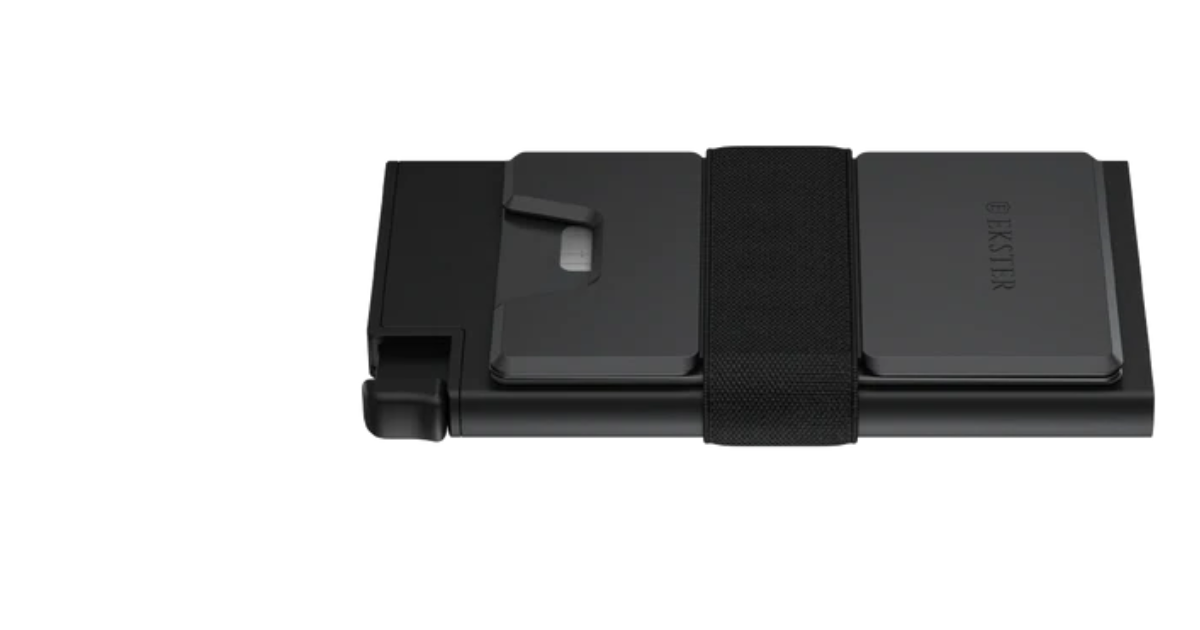 (Visited 22 times, 1 visits today)