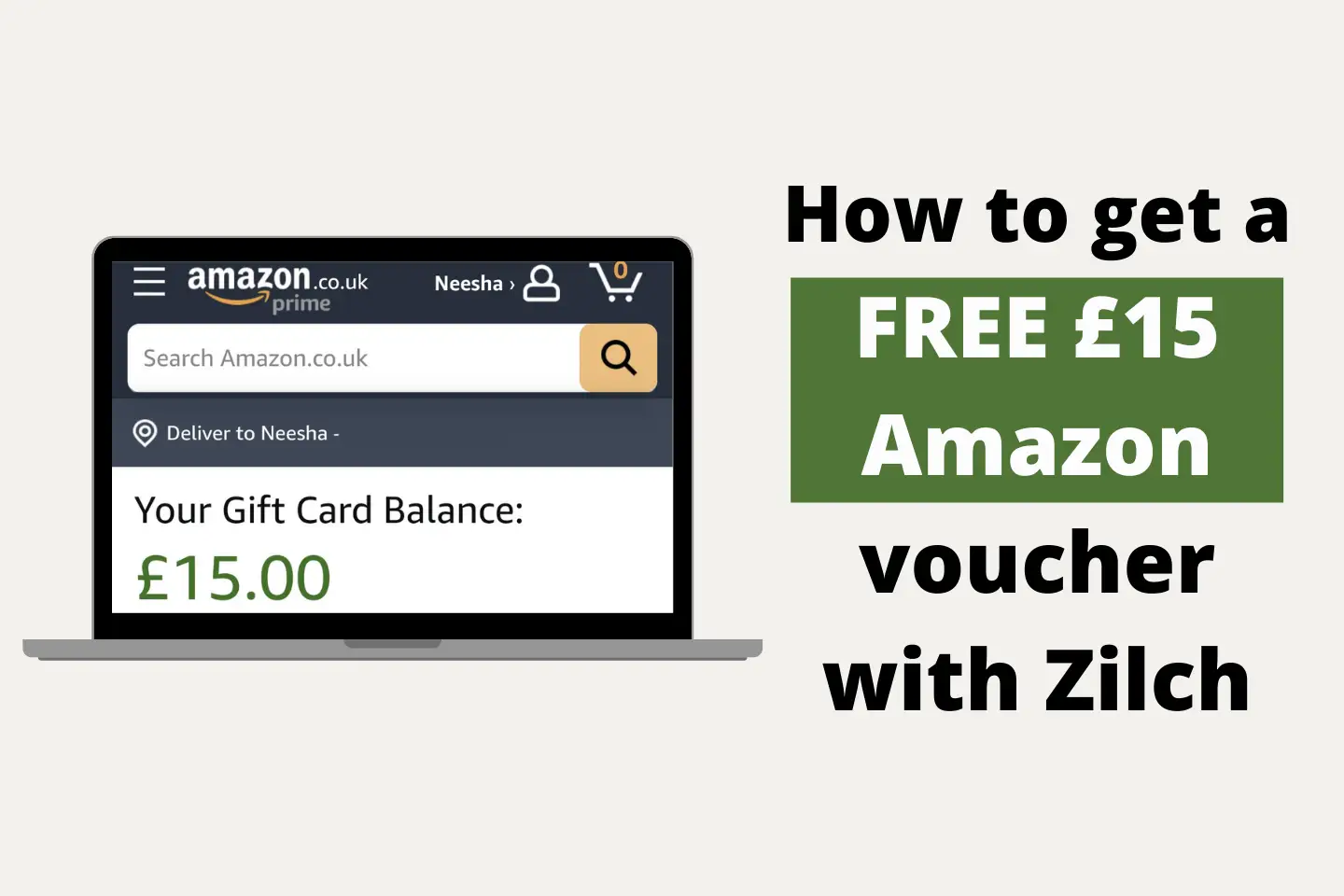 All new customers to Zilch can get a £15 free Amazon gift card just for signing up.
As always with these type of free money offers they could be withdrawn without warning.
The gift voucher is issued immediately and is ready for you to spend today.
Here's how to get your free vouchers
Sign up to Zilch here: https://www.reinventingneesha.co.uk/zilch
You will need to sign up for a new account and complete the application form.
Then:
Verify your email address
Link a bank card
After you have done this you will immediately receive 1500 points to your account.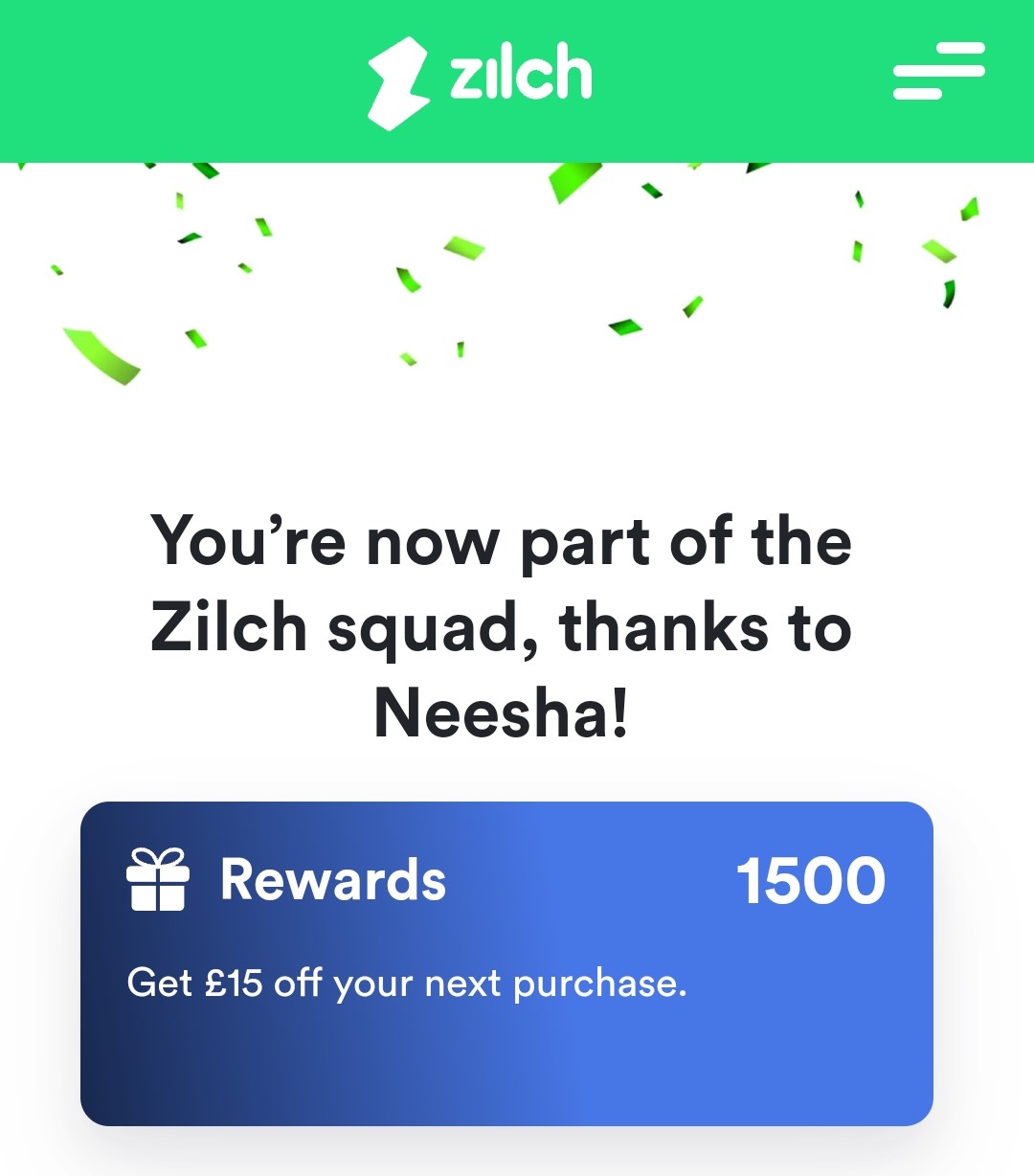 Click here to add items to your Amazon basket ready for the next step: Add items to my basket
As we are purchasing with a gift card you can spend over the £15 if you wish. Anything over £15 can be paid for with the usual bank card you shop at Amazon with.
How to convert Zilch points into a free £15 Amazon voucher
The next step is to convert these points into Amazon vouchers.
Select Amazon from the shop section on the homepage. If you can't see it just enter Amazon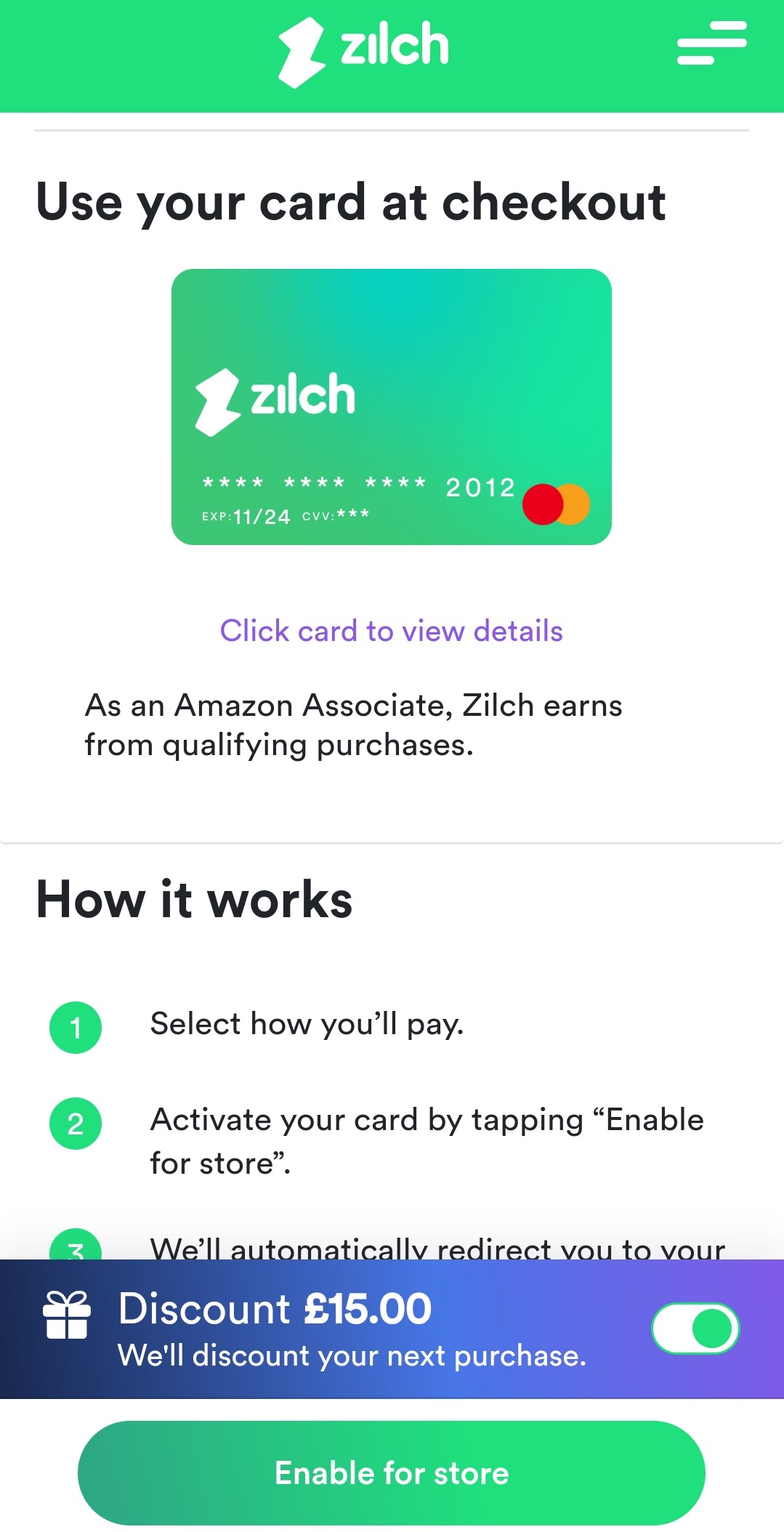 Scroll down to the section that says 'Use your card at checkout'
Tap 'Click card to view details'
You will need to write these card details down on a piece of paper.
Scroll down and switch the toggle over to 'Discount your next purchase' and hit enable for store.
This will take you directly to Amazon's website.
Once there head to
'Your Account' > 'See all account'
Scroll down until you see 'Top up account'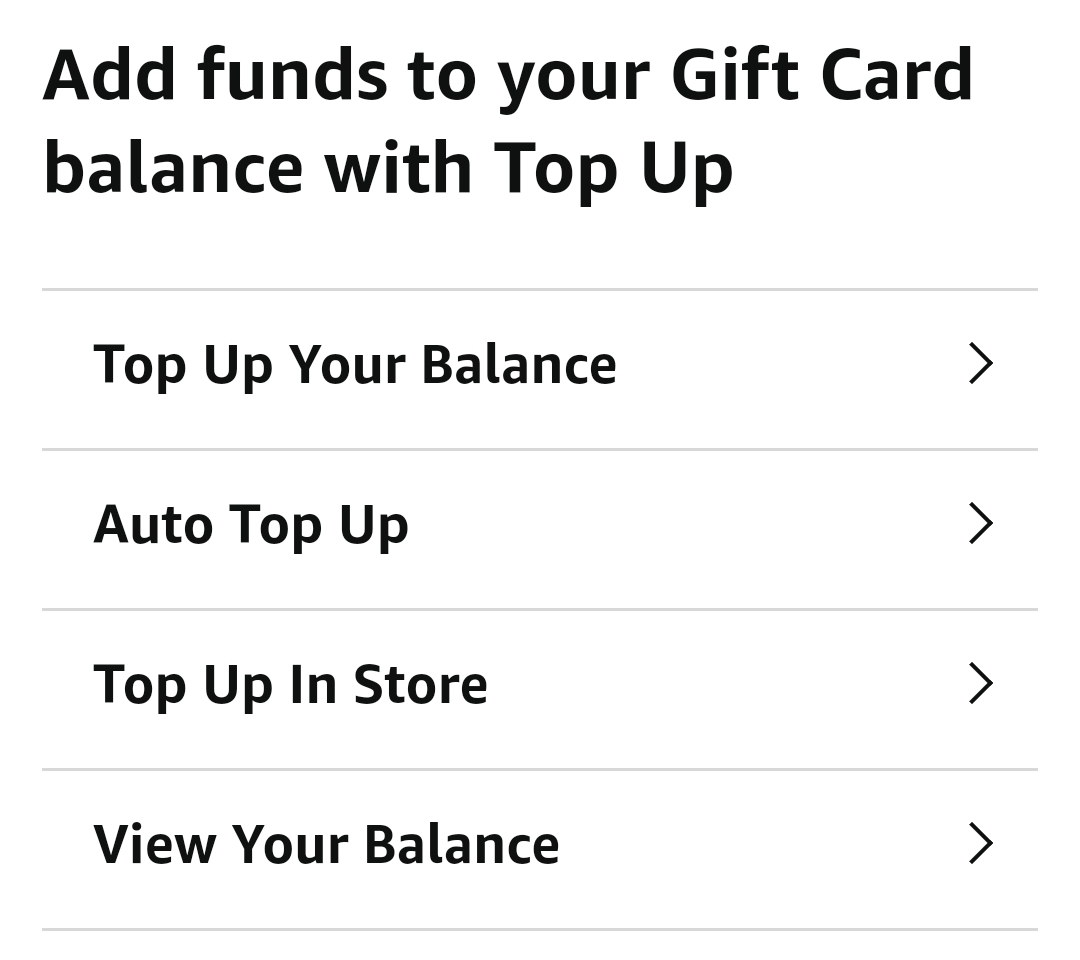 Then select 'Top up your balance'
Enter the amount £15 and click 'Buy Now'
You will then need to select to 'Add a payment method'
Fill out the card details with the ones you wrote down from Zilch. It should show as a Mastercard.
Complete the purchase and within a few minutes your Amazon account will have a £15 gift card balance.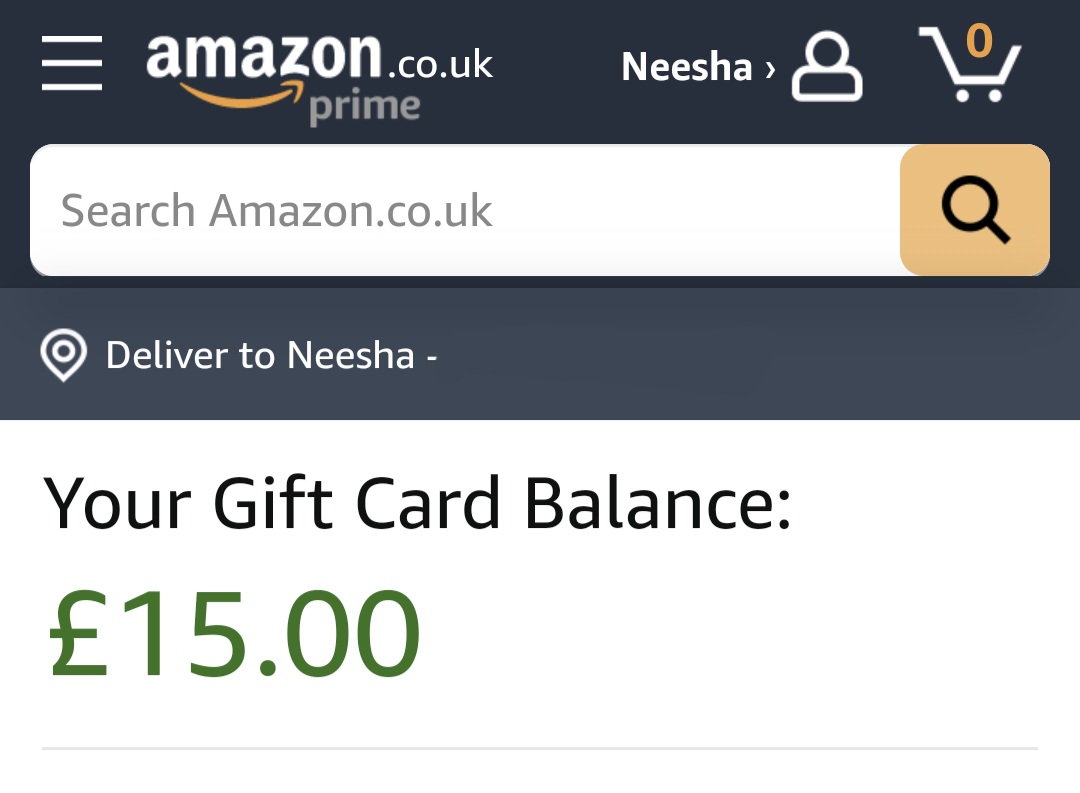 You can then shop on Amazon as normal and use your gift card balance to fund your next purchase.
Once you have completed your gift card purchase your points on Zilch will revert back to zero and your purchase will show on the 'Purchases and Payments' screen on your Zilch account.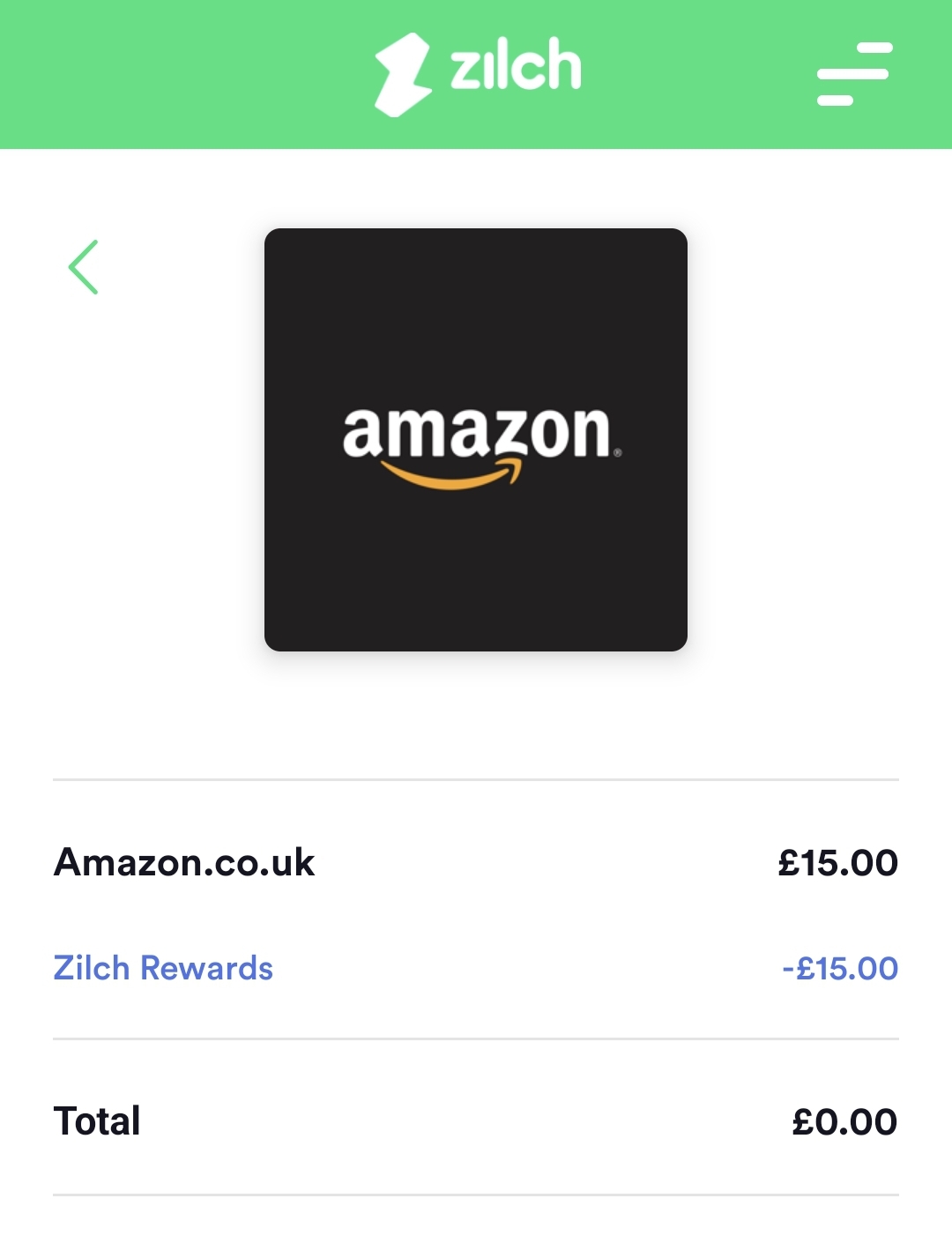 If your partner has a mobile phone and Amazon account they can complete the same process so you have a £30 balance between you.
It's really easy to do and the whole process took less than 15 minutes for both mine and Gav's accounts.
Got any questions? You can always pop me a DM on Twitter or Instagram. I'm more than happy to help.
Do I have to get an Amazon voucher?
No you don't. You can use the free credit for other websites as long as they have a function where you can purchase a gift card to the exact amount of £15.
You can of course just shop as normal without purchasing a gift card but unless you spend £15 exactly you will be charged any amount over £15 to your linked bank card via Zilch.
To purchase from a store other than Amazon simply complete the same steps as above for converting your points to a gift card or voucher.
Where else can I spend my £15 Zilch points?
You can spend your Zilch points anywhere. It doesn't have to be used with a Zilch listed store. It's really easy to do as well.
Simply add your Zilch Mastercard details to Samsung or Apple Pay on your mobile phone.
Before you make a purchase in-store head to the Zilch app and select to use your points then hit 'Enable for store' for the store you are shopping at.
If the store you are shopping at isn't on the Zilch app simply select any store and select to use your points and select 'Enable for store', this will still work and use your points instead of your linked bank card.
When you pay using your contactless Zilch card via your mobile phone in-store your Zilch points will now be used for the transaction.
I spent £15 worth of Zilch points at Boots on last minute gifts for Christmas.
IMPORTANT INFORMATION
Zilch is a buy now pay later website. As long as you do not use the card details provided for a purchase over the £15 amount you will not be charged. Zilch perform a soft credit check when you sign up for an account but this will not affect your credit score. If you do use Zilch for purchasing something over £15 this will affect your credit score and is something I do not recommend.
Happy Shopping! Hope this helps towards any last minute gift purchasing.