No Fees. No Interest. No Problem. This Service Is Revolutionizing The Credit Industry
By Taylor Z.
PUBLISHED: 08:00, 05 October 2021 | UPDATED: 14:56, 07 October 2021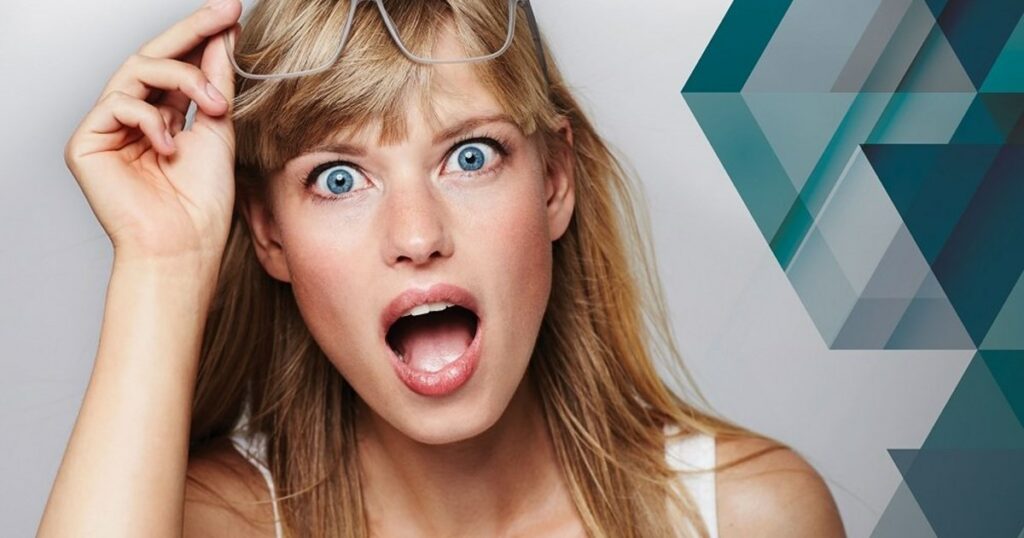 To say that the past few years have been difficult would be a dramatic understatement. Shops closing, unemployment rates rising, lockdowns and a public health crisis have turned all our lives upside down.
Households all over the UK are still suffering from the economic impact of the pandemic. With the Delta variant looming and the holiday season around the corner, there is enough uncertainty surrounding Christmas to make even the jolliest person feel like a Grinch.
If you're worried about overspending this holiday season, you may feel like buying on credit could make the problem worse. And just a few years ago, you'd have been right.
Traditional creditors charge hefty interest on purchases and overdraft fees bring firms billions of dollars in revenue each year.
But if you think those are the only options, you've probably never heard of Buy Now, Pay Later (BNPL).
BNPL Explained
BNPL services allow you to split your purchases into more manageable amounts and pay them at agreed-upon instalments.
Interest rates range from 0% to 19.9%.
Fees are typically £0 but vary depending on the retailer.
Credit checks can be soft (with no impact on credit score) or hard (impacting credit score).
Penalties for missed payments vary depending on the provider. They may either charge interest and fees or suspend your account.
Retailers vary depending on your provider. BNPL providers are rapidly expanding their partnerships as BNPL services become increasingly in-demand.
How Three of the Top BNPL Services Stack Up: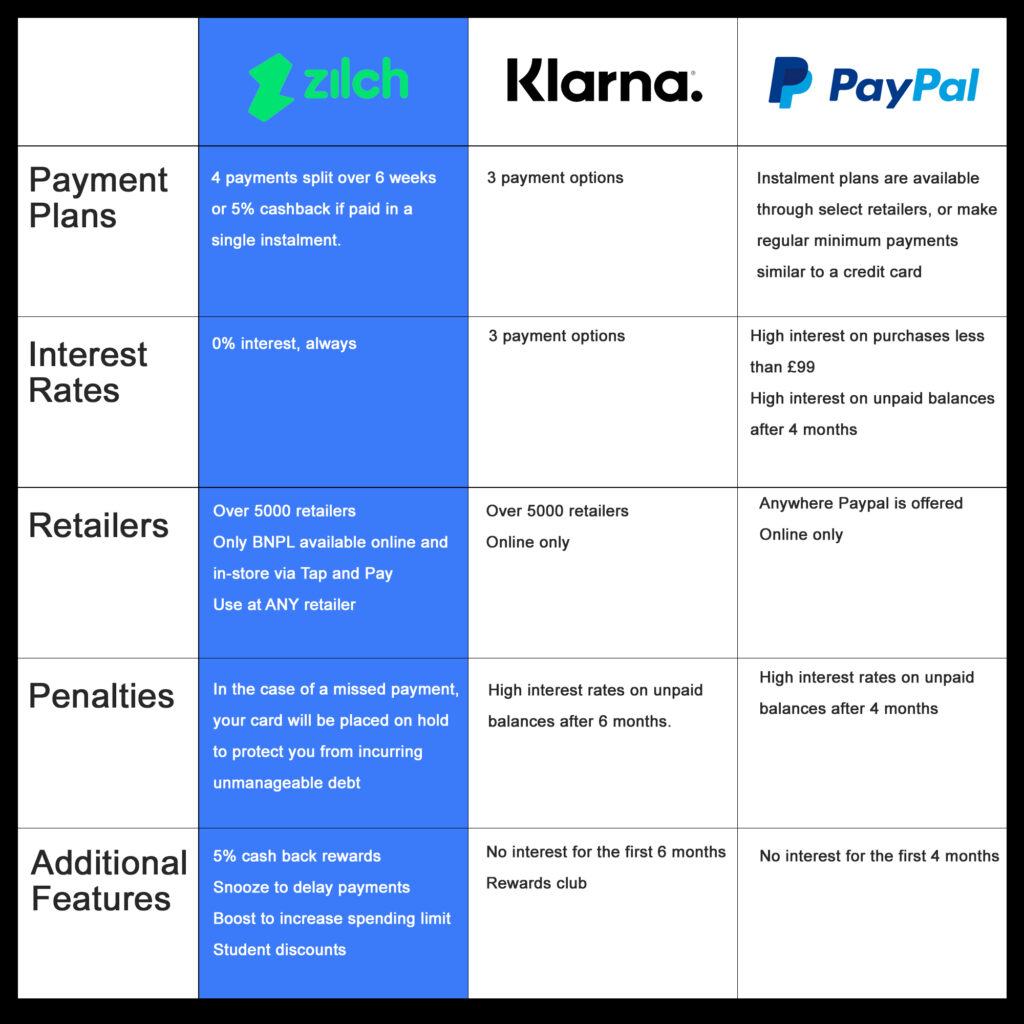 More on Zilch
There are several features which set Zilch apart from other BNPL services.

1. Earn 2-5% cashback.
Pay in full for your purchase using your Zilch card and get cashback in Zilch Rewards, which you can use to discount future purchases.
Zilch is the only BNPL service provider to offer 5% cashback. Most credit cards offer 1% cashback, so you're getting a sweeter deal with Zilch.
The average family could earn around £870 with this program! That's more than enough to help with those extra holiday costs, or to take a relaxing weekend getaway when it's all over.

2. Tap and pay anywhere.
Zilch is the only BNPL service that can be used online and in-store, anywhere that accepts MasterCard.

3. Commitment to responsible lending.
Over 1 million users love Zilch for its commitment to responsible lending. Instead of charging predatory fees and interest rates, Zilch places a hold on your account when you miss a payment.
In order to protect you from potential fraud or theft, Zilch requires you to pay your first purchase in full before you can begin making more.

4. A Snooze or a Boost if you need it.
Zilch's Snooze feature allows users to place a temporary hold on their payments for a few days.
The Boost feature allows users to make purchases over their spending limit, provided they pay the total amount that exceeds their limit at the time of purchase.
Signing Up
The sign-up process for Zilch typically takes 3 minutes and requires only a soft credit check, so your credit score will not be impacted.
At the time of sign-up, you'll be assigned a spending limit, which is typically between £100-£600. If you want to use Zilch to buy something over your limit, simply select the Boost option at checkout.
Note: An influx of users during the holidays could affect the signup time, so signing up now is better than waiting later.
Shopping with Zilch
Zilch makes it easy to shop and even easier to manage your money with their app. Shop their partner brands with absolutely no fees or tap to pay using the app. Tap and Pay is available anywhere that accepts MasterCard.
Making Your Payments
Zilch offers a universal payment plan that ensures all your purchases will be paid off in 6 weeks.
The payment plan splits your purchase into 4 equal payments and charges your account biweekly.
The process for making your first purchase will look like this:
You put a pair of £160 trainers in your shopping cart and select Zilch as your method of payment.
Friday, October 1st (the time of purchase):

You pay £40 at the checkout. The remaining balance is £120.

Friday, October 15th (2 weeks after purchase):

A payment of £40 is charged to your account. The remaining balance is £80.

Friday, October 29th (4 weeks after purchase):

A payment of £40 is charged to your account. The remaining balance is £40.

Friday, November 12th (6 weeks after purchase):

A payment of £40 is charged to your account. Your balance is paid in full.
You will receive a notification a few days before each payment is due. If you need more time to make your payment, use Zilch's Snooze feature to delay your plan for up to 4 days.
Zilch: The UK's Best BNPL Provider
Zilch is one of the fastest-growing UK BNPL providers, and with all these features, it's easy to see why.
Signup won't impact your credit score. It usually but could take longer during busier times.

Sign Up Today