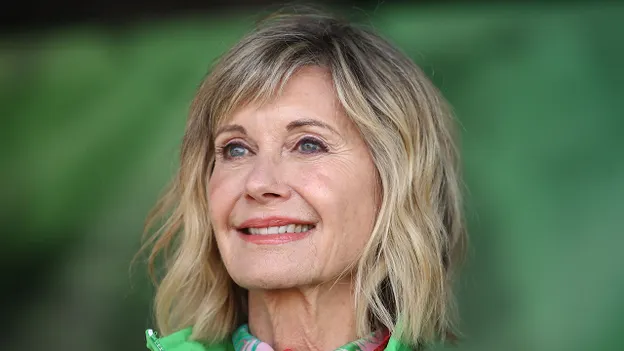 Fans on social media appeared upset and claimed Olivia Newton-John was left out of the Emmys "In Memoriam" segment Monday night as John Legend performed a moving tribute to pioneers of the entertainment industry who died the year before.
Newton-John battled breast cancer for 30 years and died at her home in California on Aug. 8.
One user wrote, "WHAT?! Why wasn't Olivia Newton-John in #Emmys2022 in memoriam?"
However, a spokesperson for the Emmys tells Originol Digital that Olivia Newton-John was featured in the Creative Arts "In Memoriam" category that honors music and composers.
The 74th Primetime Emmy Awards honored icons, including Betty White, Nichelle Nichols, Bob Saget, James Caan and Paul Sorvino.
Gilbert Gottfried, Tony Sirico, Louie Anderson, Ray Liotta, Sidney Poitier, Willie Garson, John Madden, Roger Mosley Vin Scully and Anne Heche were also paid tribute to during the ceremony.
Emmys 2022: Complete list of winners
Michael Keaton was the first big winner of the night, as he took home the Emmy award for lead actor in a limited or anthology series in "Dopesick" and Jason Sudeikis won for "Ted Lasso" in the outstanding lead actor in a comedy series category.
Here's a look at the full list of 2022 Emmy Award winners.
Pete Davidson makes surprise Emmys debut, jokes awards are like SNL as Kenan is 'doing all the work'
Pete Davidson made a surprise Emmys appearance Monday night as he presented the Outstanding Comedy Series award on stage at the Microsoft Theatre in Los Angeles.
The comedian joked that he "didn't come to rehearsal," but gave a hearty shoutout to his longtime friend and host, Kenan Thompson.
"It's funny cause this is just like "SNL" because Kenan is doing all the work and I'm refusing to say what the writers want," Davidson said.
Davidson recently left Saturday Night Live after starring on the sketch comedy show for six years, a gig he received when he was 20 years old.
Lorne Michaels said he was excited about the future of the program despite the difficult changes within the restructuring of the cast.
"I think we just … I couldn't imagine that we would work without that whole team," he said after winning the Emmy for Best Variety Sketch Series.
"So we just kept going and this would be a transition year. And the changes years are always difficult, but also really exciting for people. And strange again, a different generation considered." 
Click here to read more about the Emmys 2022 winners.
Zendaya wins Emmy for 'Euphoria,' thanks creator Sam Levinson for 'believing' in her
Zendaya earned her second Emmy award for Outstanding Lead Actress in a Drama Series in "Euphoria," another Emmys record as the youngest two-time winner.
The 26-year-old actress praised creator Sam Levinson for "believing" in her "even in moments where I don't believe in myself."
"I want you to know, I'm so grateful for your stories," she told the audience as she accepted the award for her portrayal of Rue. "I carry them with me and I carry them with her." 
Click here to see a full list of Emmy award winners.
Quinta Brunson brushes Jimmy Kimmel off stage while winning first Emmy for 'Abbott Elementary'
Quinta Brunson had some competition as she was forced to push Jimmy Kimmel to the side after he "passed out" before she won her first Emmy award Monday night.
The "Abbott Elementary" creator won the Best Writing for a Comedy Series on the breakout ABC sitcom, but had to share the stage with Kimmel who pretended to be knocked out.
Brunson is the first Black woman to receive three nominations in the comedy category, all of which for "Abbott."
Click here to see more from Emmys night 2022.
Amanda Seyfried wins first Emmy Award, says filming 'The Dropout' was 'best time' of her life
Amanda Seyfried won her first Emmy award Monday for Best Actress in a Limited Series, Movie or Anthology, with a starring role in "The Dropout."
She said that portraying disgraced Theranos founder Elizabeth Holmes was "the best time of my life."
"Thanks for recognizing me," she told the audience at the 74th Primetime Emmy Awards. "It's a really nice feeling."
Seyfried, who was dressed in a glittering Armani gown, also praised her family for their never-ending support, and told her daughter, "Bubs, you gotta go to bed now."
Jennifer Coolidge dances off stage after winning first Emmy Award for 'The White Lotus'
Jennifer Coolidge had to cut her acceptance speech short after winning her first Emmy Award for her performance in "The White Lotus."
Coolidge, who took home the Outstanding Supporting Actress in a Limited or Anthology Series or Movie trophy for her role in the HBO series, joked that she took a lavender bath before the show, which made her "swell up inside my dress."
"I'm having a hard time speaking," she told the crowd. "Anyway, this is so thrilling!"
She then danced her way through the send-off music, and refused to leave the stage after thanking a few of her biggest supporters.
Click here to see more red carpet looks from the 74th Primetime Emmy Awards.
Ben Affleck's ex-girlfriend Lindsay Shookus joins Lorne Michaels on stage to pick up 'SNL' Emmy
Ben Affleck's ex-girlfriend, Lindsay Shookus, joined the "Saturday Night Live" cast and crew on stage after winning an Emmy Award Monday night.
Affleck and Shookus dated for nearly two years between 2017-19 before officially calling it quits on their relationship in April 2019.
The "SNL" cast won the best variety sketch series award at the 74th Primetime Emmys, with Lorne Michaels at the helm of the program and Emmys host Kenan Thompson standing off to the side near Shookus.
The veteran producer announced last month that she was leaving the show after 20 years with the program.
"I will be forever grateful to Lorne for this once in a lifetime opportunity…thank you for your support, encouragement and freedom to bring my voice to this legendary stage," she said, adding: "Thank you to all the people that pushed, supported, taught, listened, valued and respected me throughout my crazy ride at the show."
Affleck recently married Jennifer Lopez in Las Vegas, and the couple hosted a second wedding ceremony at their $8 million Georgia estate in August.
Click here to see more Emmys looks from the red carpet.
Jason Sudeikis laughs off Simpsons joke during 2022 Emmys
The Simpsons made an appearance during the Emmy Awards as bartender Mo responded to a prank call from Bart Simpson.
"Hello, I'm lookin for Mr. Beau Tox," Bart said.
"Is there a Beau Tox in the celebrity audience," Mo yelled in the bar. "Can any of you raise an eyebrow in here?"
Mo slammed the phone down and threw an Emmy across the bar which hit Homer in the face, only for the patriarch to wake up and scream, "Oh my God! I've been Jason Sudeikised!"
The Ted Lasso star was shown laughing in the crowd at the 74th Primetime Emmy Awards.
Kenan Thompson jokes Zendaya is "too old" to date Leonardo DiCaprio
Kenan Thompson praised Zendaya for celebrating her 26th birthday recently, but joked she was now too old to date Leonardo DiCaprio.
The Emmy Awards host quipped, " You're young enough to play a high school student, but you're too old to date Leonardo DiCaprio."
Zendaya, who is nominated for multiple Emmys, dropped her head into her hands and laughed off the comedic routine.
Click here for more from the 74th Primetime Emmy Awards.
Kenan Thompson's Emmys opening monologue features Brady Bunch reunion and an appearance from Oprah
Kenan Thompson opened the 2022 Emmys with a lively performance which included a musical montage, with a Brady Bunch reunion and an appearance from Oprah while the Saturday Night Live star was dressed as Game of Thrones star Khaleesi in a bright blonde wig. 
"Without that belief (in yourself), you will never succeed," Winfrey said. "So every nominee, has been knocked down at some point but you got back up. voted by your peers as the very best. so lets make some dreams tonight."
Michael Keaton was the first big winner of the night, as he took home the Emmy award for Lead Actor in a Limited or Anthology Series in "Dopesick."
"My folks weren't exactly patrons of the arts, but I just want to thank them for never making me feel foolish," Keaton said. 
"Over the years we've all been through a lot of tough times, there's been some doubters. I had some doubters. You know what? We're cool. But I also had those people for all those years … " he said before he was bleeped on screen.
Bob Odenkirk says 'Better Call Saul' finale was 'emotional,' five-time Emmy nominee walks red carpet
Bob Odenkirk said goodbye to "Better Call Saul" in August with the sixth and final episode, and admitted on the Emmys red carpet
Monday night that the farewell was "emotional."
"The emotional part is saying goodbye to my castmates," he told Laverne Cox of the star-studded cast.
Odenkirk is nominated in the Lead Actor in a Drama Series category for his role as Saul Goodman, his fifth nomination through the years.
Click here to see more stars from the 74th Primetime Emmy Awards.
Emmys 2022 red carpet: Lily James, Geena Davis and more stars stun on red carpet
The Emmy Awards red carpet is underway at the Microsoft Theatre in Los Angeles, with Geena Davis, Laura Linney and Lily James leading the A-list roster of attendees.
James, who is nominated for her work as Pamela Anderson in the Hulu series "Pam & Tommy," simply sparkled wearing a metallic Atelier Versace dress.
She told pre-show host Laverne Cox that she felt "truly inspired" by Anderson. "She has such a strong, fierce spirit," James said.
When it came to preparing for the role, James said her voice work was "really key" to nailing the transformation. "We worked so hard on getting myself to feel strong and healthy and lean," she added.
Click here to see more of the red carpet looks from the 2022 Emmys.
2022 Emmys host Kenan Thompson says awards show is 'about to be very real'
Kenan Thompson walked the 2022 Emmy Awards red carpet ahead of the show Monday night where he admitted he's ready to step up to hosting.
After months of practice, the Saturday Night Live star told Laverne Cox during the pre-show that all of his hard work pays off in a matter of hours.
"It's always nice to run it like it's real, and now it's about to be very real," he said.
Thompson, who is a big fan of "Ted Lasso," said he would be "very frightened" if he found himself among the players in the Emmy-nominated Netflix series, "Squid Game."
He added he would also be "very sweaty, needy and annoying" and said, "I would be that guy, 'Oh, help me!'"
2022 Emmys: Sydney Sweeney, Zendaya, Kenan Thompson and all the stars to watch for
The 74th Primetime Emmy Awards air Monday night.
And if previous Emmy moments are an indication of what's to come, this year's show should be full of surprises.
The 2021 Emmys saw Cedric the Entertainer's opening monologue roast the British royal family, "Jeopardy!" and more. 
Last year's show also took a political turn with a joke about California Gov. Gavin Newsom's recall, and a late-night pizza party ensued with Mandy Moore stripping down while having a slice of pie.  
Here is what to expect at this year's Emmy Awards.
Click here to read more.