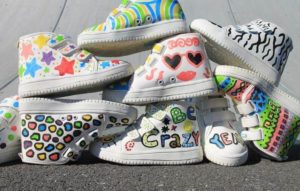 Monkies are footwear that can be drawn on, wiped clean and then drawn on again. I was intrigued by the idea but wondered how they would work in reality.
A pop-up in London has opened it's doors as part of Pop Up Britain. For a limited time you can purchase products from some of the most exciting online brands in a physical store. I popped along to the launch event to meet the Monkies team. A few recognisable faces were also in attendance such as CBeebies' Sid Sloane, much to the kids delight!
It was great to see the shoes in real life and have a chance to test them out.
Will kids actually enjoy drawing on their shoes?
The kids ran straight past the craft and face painting tables to sit on the floor and start doodling. They drew several designs while we were there and have continued to enjoy changing their shoes daily. Even Sid got in on the colouring action, unfortunately as  Monkies are only available in Junior sizes 10 – Adult size 3 so they were never going to fit him!
I can definitely understand the appeal of these shoes as they remind me of my own childhood, filled with customisable headbands with names written across them in embossed script. Monkies founder laughed when I mentioned this, as such memories were apparently part of her inspiration when creating the range! I also wonder if I can squirrel the shoes away of an evening and write little reminders on them like 'tidy your room' or 'put your washing in the basket' it could be a whole new brand of parenting 😛
I can confidently say that kids (and adults!) really enjoying drawing on their shoes.
Will the designs last when walking about or in the rain?
All three children wore their shoes from the pop up store over to the Natural History Museum, then on several tubes and walking around London. As long as the design has dried they seem to last. I haven't tested them out in the rain yet, but I am told they will survive as long as they have been given time to dry before venturing out.
Are they durable?
We haven't had them long but considering all my children are very hard on their shoes and we had several trips and stubs in London I'm amazed they are still in one piece already. Only time will tell, but so far it's a thumbs up!
I do. They hold a magical appeal that keeps my children quiet and occupied for long stretches at a time! My youngest is also notoriously fussy when it comes to his footwear and he loves these shoes. Plus the fact that they have Neon accents makes the kids easier to spot should they wander a bit further away from you than you would like.
We all had a fabulous time meeting the Monkies team and trying out the new shoes. I can honestly see these becoming a must have accessory for cool kids and parents will enjoy the peace they seem to bring. I would definitely recommend visiting the store to see the shoes in person and meet the team if you can.